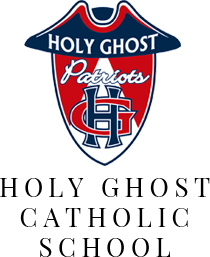 Early Learning Center
Early Learning Center
Holy Ghost Catholic School's PreK-3, PreK-4, and Kindergarten programs provide a solid foundation and a nurturing environment for social, emotional, and academic development in order to foster life-long learning and deepen faith. Academic activities focus on building confidence, independence, curiosity, and a love of learning. Students are individually assessed to best serve each child's needs. Students review, build upon, and reinforce the skills and concepts previously learned throughout the year. Students learn through hands-on activities, learning centers, directive play, and small group instruction.
Curricullum
The HGCS early childhood program curriculum focuses on Religion, Language Arts, Math and Social Living, as well as, Physical Education, Art, Library, and Music enrichment classes. Learning centers include imaginative play, blocks, puzzles, art, reading/library, educational technology with iPads, and educational games.
Kindergarten:
Holy Ghost follows the Kindergarten Louisiana Academic Standards for English/Language Arts and Math, as well as, Grade Level Expectations for Science and Social Studies instruction. The curriculum includes the following instructional programs: Open Court by McGraw Hill, Savvas Realize Math, and We Believe Religion by Sadlier.
Pre-K4:
Students learn through thematic units that review and build upon skills learned in PreK-3. Units include literacy, writing, math, religion and social living skills. The curriculum includes the following instructional programs: Abeka Phonics, Singapore Math, Seeds by Phlaum Gospel Weekly.