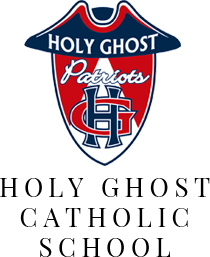 Announcements
MARCH 23, 2020

Dear Parents,

As per the Governor's press conference, the school office will be closed to the public for the duration of the lockdown mandate.

We will continue to communicate via email, Renweb, Holy Ghost website, Facebook, and Schoology. Distance Learning will also continue, grades will be taken, and Mid-Nine Weeks Progress Reports will be sent home as well.

For spiritual guidance, please visit the Holy Ghost Church website as well, at: hgchurch.org. The church has posted some wonderful videos to help us to rely on our faith during this difficult time.

We pray that each of you remains safe and healthy throughout this ordeal.

God Bless,

Donna Wallette

Principal, Holy Ghost Catholic School

dwallette@hgschool.org

MARCH 18, 2020

Dear Holy Ghost Families,

As of now, we are still scheduled to return to school on Tuesday, April 14. If this should be extended, I will definitely inform you immediately. However, we are committed to move forward with the learning process throughout the duration of this crisis.

The teachers are available to address your children's needs via email and Mr. Bordelon has been working day and night to handle any technology issues.
Additionally, we have been given access to a link in which certified teachers are available, after 3:00, to help students with their studies.

Please continue to refer to the website, email, and Facebook page for updated information, links and videos to assist your child and maintain a connection to Holy Ghost. I do not want to bombard you with emails during this stressful time, but I do want to alleviate any anxiety you may have with assisting your child.

In addition to their studies, I know many of our students are disappointed that they may not experience some of the grade level and extra curricular activities to which they were looking forward. It is our hope that some of these events can be rescheduled. I will certainly keep you informed as to if and when that may happen.

In closing, it is times like this when we must put differences aside, forgive one another, count our blessings, rely on our faith and come together as a community. Education is our passion, it is our ministry and trust me when I say......we truly miss our students.

May God Bless and Protect Each and Everyone of You,

Donna Wallette
Principal

MARCH 16, 2020

Dear Holy Ghost Parents,

I realize that this is a very unsettling time. We are looking for answers and guidelines….but each time we feel we have a plan, new information is posted. I can assure you though, that the teachers and my staff are committed to doing our very best to continue your child's education through "

distance learning

".

Every teacher reported to school today to work on plans and materials for the next few weeks. In an effort to simplify things, there is a link on our website titled

"Distance Learning"

that has the materials for the week for your child's grade.

Teachers will also continue to communicate with you through their regular methods via email and/or Renweb. Please email your teacher directly if you have any questions.

Based on the latest information that was posted by the CDC and the President, all communication and submission of student work will be done electronically now. Our 5th through 8th grade students are very familiar with this procedure. We realize however that our PK through 4th grade students will need your help with it. In grades PK through 4th, please scan or take a picture of the completed work and email it to the teacher. Again, I want to assure you that ALL teachers asked me to communicate to you that they will be glad to answer any questions and help you and the students as much as possible.

As of now, we are scheduled to return on TUESDAY, April 14. It was recommended for the Spring Break to be moved from the week following Easter to the week prior.

Therefore, it will be listed on the calendar from April 6-13 and students will not be assigned work during that week. This will allow for more instruction to take place on campus before the close of the school year.

Should we be informed to continue

Distance Learning

from home, we will certainly inform you immediately. Additionally, in an effort to alleviate additional requirements or pressure on students and families, we will forego requiring AR for the remainder of this year. Please disregard the emails you received from Ms. Cindy.

Thank you so much for the kindness and understanding you have shown us as we navigate through these uncharted waters. I hope you can feel the prayers that we said today for your children and all of you. Together with our faith, we WILL get through this.

May God watch over you, protect you and bless you during this ordeal,

Donna Wallette

Principal, Holy Ghost Catholic School

dwallette@hgschool.org

MARCH 13, 2020

Dear Holy Ghost Families,

We were just informed by the Superintendent for the Diocese that all Diocesan schools will adhere with the proclamation from Governor John Bell Edwards.

Therefore, Holy Ghost will be closed on Monday, March 16 with students scheduled to return on Monday, April 13.

As I mentioned in a previous email, we have been meeting throughout this week to have a plan ready should this occur.

Therefore, in grades 5th through 8th, the teachers will be sending the assignments via Schoology on their iPads. Please have your child login DAILY to see what is required.

For grades PK-2 through 4th, the teachers we will be emailing or sending assignments (with instructions) for the students to complete at home. If an assignment is emailed, but you are unable to copy it, the office will be open between the hours of 8:00 and 2:30, on weekdays, for the assignment/packet to be retrieved in person. Please check your child's book-sack this evening, as some teachers will be sending home the packets today. Since studies will continue at home, ALL students will be counted as being in attendance.

Please email the teachers directly if you have any questions regarding the assignments. They will be in communication with you regarding assessments as well.

All extracurricular activities will also be discontinued at this time. We are praying that some things may be rescheduled, but we are currently uncertain. I assure you, as information unfolds, we will continue to keep you posted as directed by the Diocese.

We pray that our Holy Ghost families, and the world as a whole, can recover from this pandemic.

As we always say…….."Our faith is stronger than our fear!"

God Bless,

Donna Wallette

Principal, Holy Ghost Catholic School

During the COVID-19 pandemic, Holy Ghost School is providing its students with distance learning in all grade levels PK2 - 8th Grade CLICK HERE to view lessons for each grade level.